Utility & Underground Services Location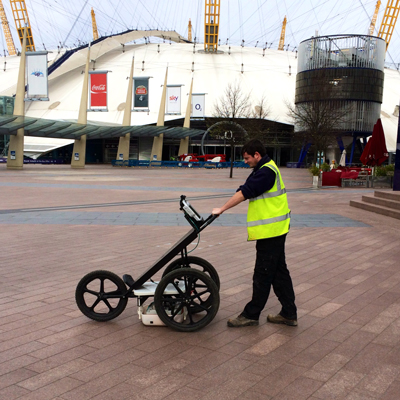 Underground services surveys are an important aspect of any site construction work. Most underground services can be detected using electromagnetic detection equipment which can normally determine depth and measurements for cables, metal pipes and drainage runs. However some non-conductive services, for example, fibre optic cables and plastic pipes, require more specialist equipment such as GPR (Ground Penetrating Radar).
The latest electromagnetic service or ground radar locators are used to determine the position of most underground cables and pipes. All routes are site marked with biologically degradable paint. Drains can be located using electronic sondes emitting a signal from the pipe, which is then located on the surface. All this information can then be surveyed to provide a comprehensive record of on site services and depths.
Our surveyors are fully conversant with health and safety procedures regarding entry into confined spaces. These procedures will always be used when required.
Surveys will be undertaken to TSA Utility Guidance Note Standards. For TSA level 4 and PAS128 surveys, please refer to www.tsa-uk.org.uk/survey-association-issues-new-guidance-specifying-utility-survey
Utility detection and mapping enables the following services and information to be gathered;
Utility location
Utility depth
Size of any subsurface underground services
Type of utility
Ground Penetrating Radar (GPR)

Utilising Ground Penetrating Radar survey equipment, we are able to provide an accurate survey of underground features and utilities. By sweeping the required area on a grid system, the surveyor is able to see images on a screen, which is a cross section through the ground. The evidence of items such as disturbed soil, voids and foreign objects (i.e. pipes, tanks, foundations etc.) can then be interpreted and cross-reference to their relevant ground locations, either immediately on site ('mark to ground') and / or on CAD.

Items that are usually detectable;

Archaeological investigations
Buried human remains (i.e. graveyard sites)
Culverts
Duct and cable routes
Excavation Routes
Foundations
Large solid objects
Pipe Routes (metallic and non-metallic)
Storage Tanks
Underground utilities
Voids in the ground and cavities

Electromagnetic Detection

In general, Sitech Surveying Services undertake to survey only for declared services (i.e., services that appear on statutory record drawings). We will of course endeavour to locate and track any services not featured on records. If required and where possible depth estimations will be supplied.

Services included in an Electromagnetic Survey;

Computer cables
Foul and storm drainage pipes above 100mm in size where pipes are accessible
Electric supply cables of 440v to 66kv AC, which are live
Electric cables to street lighting
Metallic water pipes of 38mm and above
Metallic gas pipes of 38mm and above
Metallic fuel mains
Metallic pumping mains
Telecom services in ducts
Underground heating pipes
Utility Record Pack
If the client has no existing records of the site, Sitech Surveying Services can undertake a search of local utility company records in order to obtain details of underground services, which may be present. A service record pack will be provided indicating all utility companies contacted and data provided.
Contact us on 01622 678900 or 01285 654522 for Utility Surveys and Underground Services Mapping click here to fill out our contact form.